Manage Your Domains to Activate the WP SMS License
After purchasing a new WP SMS license from the website, you can activate the license key on your website. Just follow the below steps to activate the license:
The license will automatically be activated on your website.
Update domain license
If you have already bought a license and it's activated, you can change your domain by checking out these steps:
Go to My Account on the WP SMS website and click on the Orders menu item.

---
Troubleshooting WP SMS License
According to our users, sometimes they encounter problems while installing WP SMS. Here we have gathered all of the most common challenges you may face with activating your license key.
What is the WP SMS license key & where to find it?
License keys are required for automatic updates and access to the support center. You can manage your orders in your account. Your license key is also accessible on the Downloads section of your account.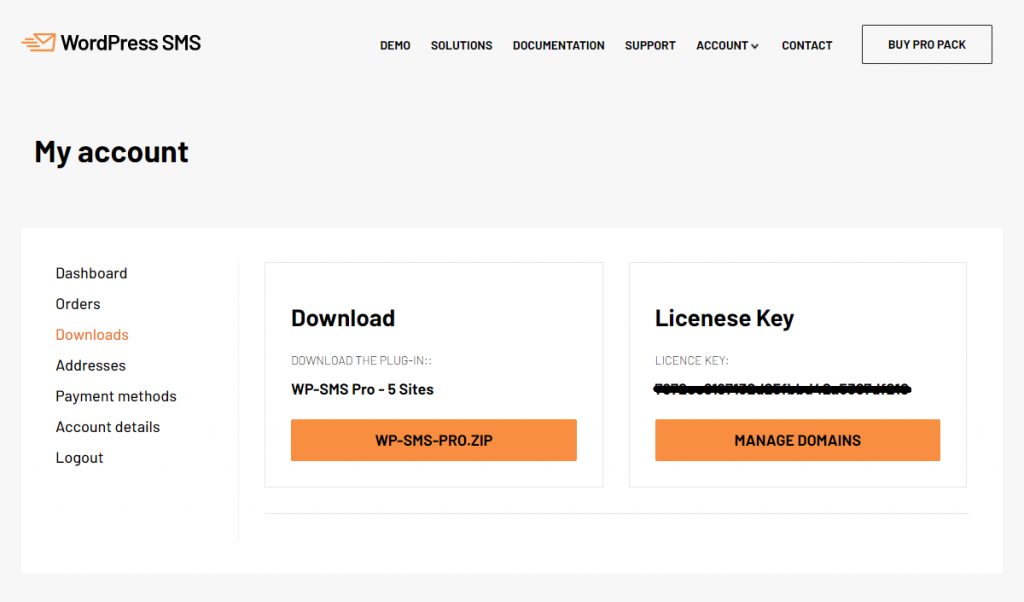 Disabled field
The disabled or inactive license key may be caused by:
Make sure you have installed the latest version of WP SMS. You can get it from your account.
You should install and enable both of the plugins: "WP SMS" and "WP SMS Pro."
Check out to know how to install the plugins: https://wp-sms-pro.com/resources/installation/.
Please make sure your plugins' file names are correct.

The free version: wp-sms
The pro version: wp-sms-pro
To rename the files and fix this issue:
Upgrade the Plugin Manually: Please disable and then delete wp-sms-pro-v3.2 on your WordPress, then get the latest version from your account and install that.
Rename the Plugin: You can also rename the current plugin name from wp-sms-pro-v3.2 to wp-sms-pro and then update the plugin to the new version without any problem.
If you have any questions, feel free to contact us!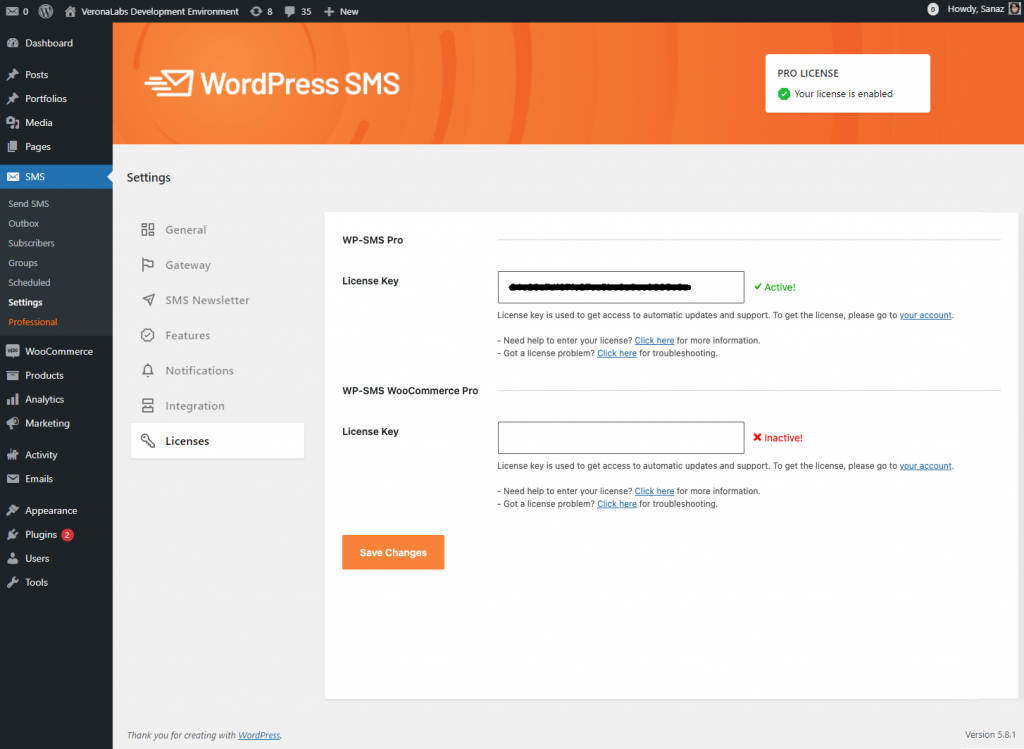 Cannot activate the license?
Check out a couple of things:
You activate your license before, somewhere else.
Please note that if your single site license is already activated on another domain, you cannot activate it on your new domain. So make sure you didn't activate it anywhere else.
Your server PHP is lower than the minimum required version.
WP SMS is fully compatible with PHP version 7.3. If your PHP version is lower than 7.3, then the license activation process may fail.
Problems in connecting to our servers
make sure our servers and IP addresses are not blocked by a firewall or security plugin on your server. To check it out, contact your host provider and make sure this is not the case for you. If it caused the problem, ask them to whitelist the following address https://wp-sms-pro.com
Deactivated license
Make sure the CURL is enabled on your PHP server. you can check through Tools » Site Health
Disable all the third-party plugins, then go to the wp-SMS-pro page and update the license. If this resolved the issue, you need to activate the plugins one by one and check to see if the problem occurs again at each step until the trouble-making plugin is found.
Transfer the license
You can activate your license key on one domain at a time. But it is possible to transfer it if you have changed your main domain. Whenever you want to do that, you can ask us.
Activate the license on multiple domains
Activating your license on more than one website depends on the license you get. If it is for a single site, then you can use it only on one domain. In case you have more than one domain and need to use WP-SMS for all of them, there are some other plans for you: 2-5 sites and unlimited sites.
Use one license key across all network/multisite or on subdomains
You can use your license key on WordPress Multisite Network. Besides, it is possible to use your license key on your subdomains as well.
NOTE: If you install your WordPress in a subdirectory, you should enter that directory in the domain list as well as your website address.