The Subscribers page is for managing subscribed users with full information.
WP SMS lets you Add Subscribers, and manage them by editing them. Besides, it is possible to import or export them into different formats.
Add Subscribers
At the top of the page, click on the button.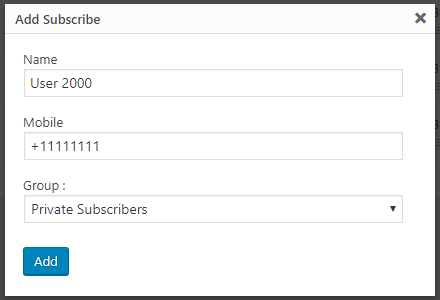 After that, an ajax popup form will show, and you can add a subscriber just by filling the fields.
Name: the subscriber name.
Mobile: the subscriber's mobile number with or without country code as you've chosen what option from the settings.
Group: select what group you want the subscriber will be added to.
Edit or Delete Subscribers
Under each row, you have an Edit and Delete link for managing your subscribers.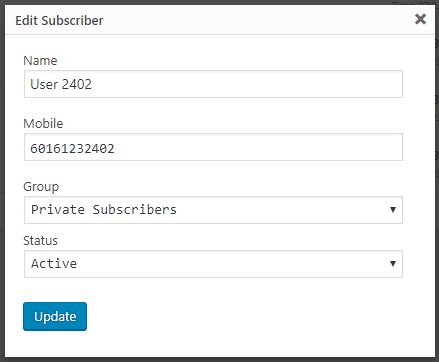 You can delete subscribers on Bulk action too.

Import & Export Subscribers
You can import your subscribers to any group you want. Also, it is possible to export your subscribers with one click in different formats like Excel, CSV, XML, TSV. But, to import subscribers, please note that the only format that can be supported here is the .csv (CSV).
Importing
Navigate to WP SMS → Subscribers
Click on the Import button
Choose your file (Remember the only supported format here is the .csv (CSV).)
By using the drop-down menu, choose the Group you want to add people to
Check the field to ignore duplicating existing subscribers
Click on the Upload button

Exporting
Navigate to WP SMS → Subscribers
Choose the group you want to export. (Empty field would mean all of the subscribers.)
Click on the Export button