Enable Privacy Page
To enable the privacy page for the WP SMS plugin, go to SMS > Settings > General and mark the "GDPR Enhancements" option in the Privacy section.

Save your settings to see the Privacy page link in the WP SMS menu on your dashboard.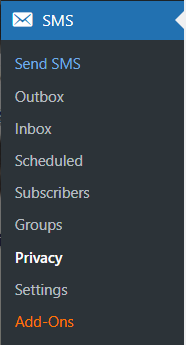 In accordance with Article 17 of GDPR, users have the right to obtain their data or have it erased and forgotten. The Privacy page in WP SMS allows you to export or erase a user's data upon request.
For more information on GDPR, see Article 17."