Overview
The Settings page is for managing the whole plugin settings but only on Free version.
We have tabs here and you can set settings for each one that you need to use.

General
Here you can set the default admin mobile number and mobile country code, the default number is for SMS notifications.
Enable/Disable GPDR Enhancements (if enabled, the privacy page will appear)
Note*: The mobile country code does not require to use if your numbers saved with the country code like "+1".
Gateway
This tab is one of the important settings that we must to set and if not, you can't send SMS anymore.
Read the Quick Start related article to manage this tab.
SMS Newsletter
Only working for your SMS Newsletter widget or Shortcode.
To use this option as a shortcode, you can use this:
[wp-sms-subscriber-form]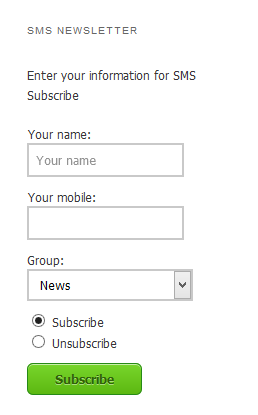 Features
You can manage what features that you want to be enabled.
Mobile field meta for user, add mobile number to user profile and register form.
International Telephone Input to make the mobile field as intel input library.
Rest API, to make it possible usable.

Notifications
Manage easily what action and what notification messages that you want to receive.
You can edit the message on every notification and if available the receiver number can receive on a specific number(s) if you want too.
Under each textarea, we made a description for knowing what variables can use on them, please attention them and each one is different.
Example:

Integration
The important thing is the integration of the WP-SMS plugin with other plugins, right?
So we've made this useful options based on popular plugins that you've requested them too.
Of course, these integration is not about 3 or 4 only plugins, here is the free version of WP-SMS!
For more integration please check this Professional Settings article to manage more integration with more plugins!