The power of SMS in customer engagement lies in its unparalleled reach, immediacy, and personal touch when comes to download. With SMS, businesses can directly connect with their customers on their mobile devices, ensuring a higher chance of message delivery and open rates.
Unlike other communication channels, SMS messages are usually read within minutes of receipt, making it an effective way to deliver time-sensitive information or promotional offers. Additionally, SMS provides a sense of personalization, as customers feel addressed individually. This direct and intimate communication fosters a stronger bond between businesses and their customers, leading to increased brand loyalty and customer satisfaction.
By harnessing the power of SMS in customer engagement, businesses can create meaningful interactions and achieve remarkable results in their marketing efforts.
What you are about to read
The Key Role of SMS in Marketing
In the world of communication, SMS's efficiency for quick notifications is unmatched. Businesses can use SMS to quickly communicate time-sensitive information to their customers. SMS messages are transmitted immediately to the mobile devices of recipients, increasing the possibility of instant attention and response. SMS ensures that recipients receive messages promptly, ensuring timely actions and lowering the possibilities of missing critical information, whether it's urgent updates, appointment reminders, or significant notifications. SMS is a vital tool for organizations seeking immediate and effective connection with their target audience due to its unprecedented speed and dependability.
Introducing the WP SMS Plugin: Simplifying Download URL Distribution
By embracing the benefits of SMS notifications, this powerful WordPress Plugin opens up new possibilities for effective customer engagement. WP SMS integrates flawlessly with popular form plugins such as Gravity Forms, Q Forms, and Contact Form 7, allowing businesses to easily offer Download URLs to their audience via these familiar and popular platforms. Whether it's distributing exclusive material, granting access to programs, or delivering updates, WP SMS Plugin makes the distribution process simple and painless.
WP SMS's integration with Zapier opens up a world of options for those looking to employ forms other than the ones described above. Users may easily design zaps that correspond to their specific needs, linking WP SMS with nearly any form they choose. This adaptability broadens the scope of Download URL distribution, allowing businesses to reach their clients effortlessly across several media and optimize the effect of their messaging. WP SMS Plugin is a dependable and versatile tool that enables businesses to capitalize on the power of SMS notifications and optimize their client interaction tactics for success.
How to use WP SMS to send Download URL
With WP SMS Plugin, after a customer fills out a Gravity Forms form, they receive an instant SMS notification with the download URL for your app. First you need to create a form for example "Receive Download link". (Make sure it has a phone number field)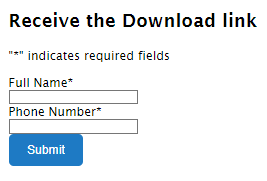 Then you need to navigate to SMS → Settings → Gravity Forms and activate the option called Send SMS to field. Then you need to choose the phone number field for the SMS to be sent to. At last, you put your download link in the message field.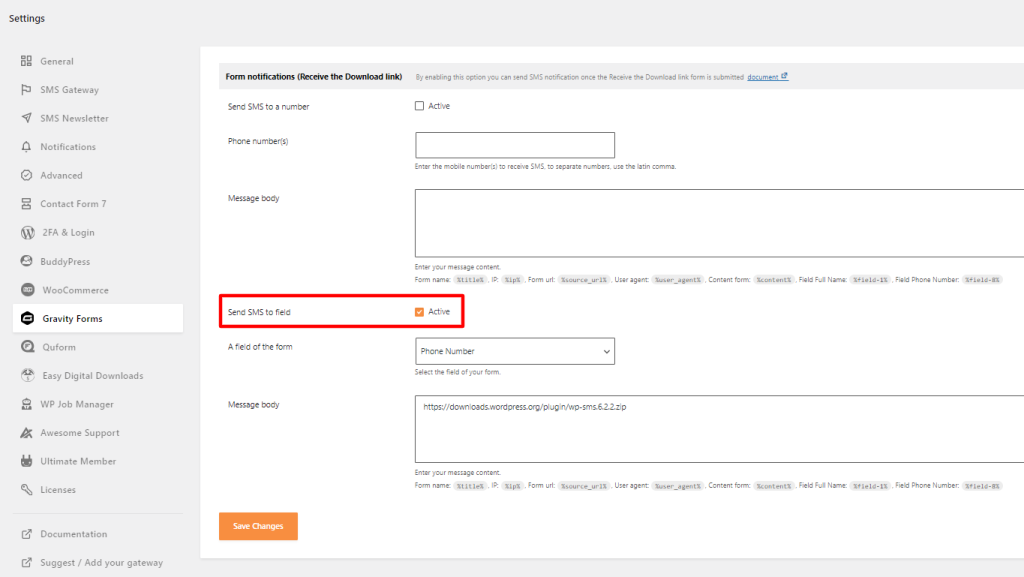 Users enter their phone number as part of the submission when they fill out the form. WP SMS instantly sends an SMS notice with the download link to the phone number specified by the user upon form submission. This ensures that the download link is delivered to customers' mobile devices promptly and directly, making it a handy and efficient means of delivering the content. WP SMS allows you to improve the user experience by giving your audience rapid access to your app or platform, boosting engagement and happiness.