Short Message Service (SMS) has developed as a powerful and ubiquitous communication channel in today's fast-paced digital environment. SMS, or text messaging, has transformed the way businesses connect with their customers. SMS is a direct and effective mode of communication that overcomes geographical boundaries and device restrictions due to its unprecedented reach and rapid delivery. It has become an essential part of our everyday lives, allowing individuals and businesses to easily communicate, share information, and keep informed. SMS remains a durable and reliable communication method that has withstood the test of time, even as technology advances.
What you are about to read
Opt-in SMS in WP SMS
The WP SMS WordPress plugin is a helpful tool for organizations who use the popular WordPress platform to improve client communication. It integrates SMS capabilities into WordPress websites, allowing businesses to reach out to clients via tailored and quick text messages. The WP SMS plugin, with its user-friendly interface and comprehensive features, enables businesses to effectively communicate with their audience, giving a convenient and efficient way of communication.
The WP SMS plugin includes crucial features such as Opt-in SMS for simple subscription in the check out page, and customizable templates, allowing businesses to take advantage of SMS communication for greater client engagement.
Opt-in SMS Notifications in the checkout page
The WP SMS plugin's Opt-in SMS function for WooCommerce is a strong addition that allows businesses to offer customers the option of receiving SMS notifications. This opt-in approach ensures that businesses communicate with interested and engaged customers who have actively subscribed to receive text message updates and promotions. The WP SMS plugin supports a smooth customer experience by giving this easy option, allowing businesses to build a direct channel of connection with their audience while respecting their preferences for receiving information.
For more information WP SMS presents related to WooCommerce visit Here.
How the feature works during the checkout process
Customers encounter a basic and straightforward Opt-in SMS checkbox throughout the checkout process, intentionally placed to attract their attention. Customers declare their interest in getting SMS messages from the company by checking this box. This step is carefully integrated into the checkout flow to ensure that it does not disrupt the user experience but rather enhances it by providing customers with the option to receive essential information, promotions, and exclusive offers by SMS.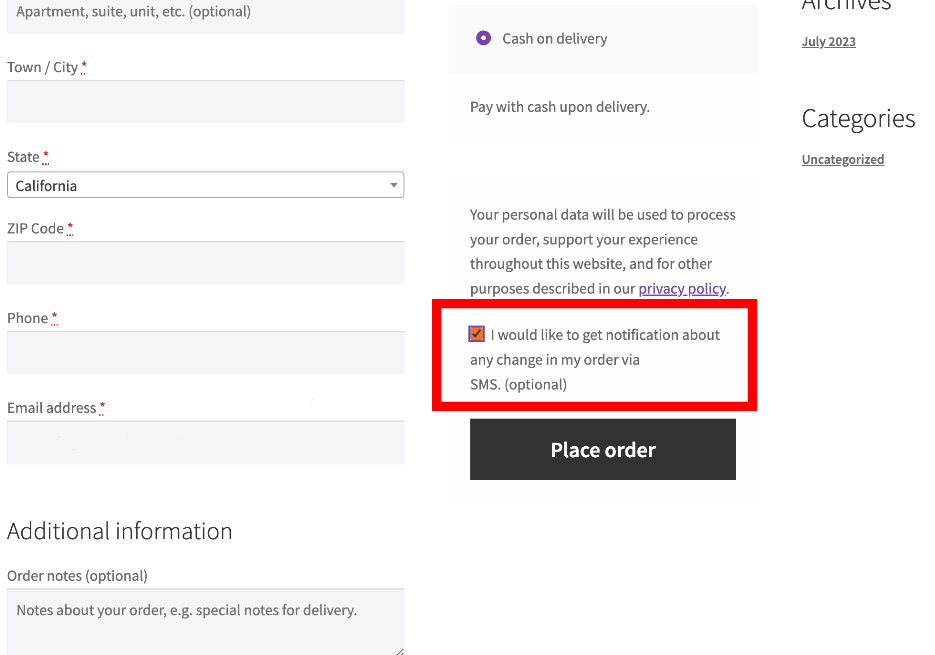 Advantages of offering opt-in SMS notifications to customers
The Opt-in SMS feature offers several advantages to businesses looking to boost consumer engagement and overall satisfaction.
For starters, it enables businesses to send time-sensitive and tailored information directly to clients' mobile devices, ensuring that vital updates and promotions are not missed.
Second, by allowing customers to opt in, companies may nurture a more responsive audience, which leads to higher open and response rates for SMS advertising. This leads to increased client loyalty, increased sales, and a better brand presence.
Furthermore, the Opt-in SMS feature ensures compliance with communication preferences and data privacy requirements, helping businesses and their valued consumers create trust and goodwill.
Enabling the Opt-in SMS Feature on WP SMS
We have added this option in SMS → Settings → WooCommerce. The option is called Confirmation Checkbox and by activating it you will have the checkbox for your users in the checkout page.

How opt-in SMS helps to improve customer experiences
By delivering relevant and up-to-date data right to customers' fingertips, opt-in SMS plays a critical role in improving customer experiences. Customers who opt in to SMS notifications receive information on order statuses, delivery notifications, and exclusive incentives, giving them a sense of individualized attention.
This proactive communication not only enhances transparency and decreases customer worry, but it also strengthens the bond between businesses and their customers. Because SMS is fast, businesses may respond to customer inquiries quickly, addressing difficulties swiftly, and leaving a great image. As a result, opt-in SMS adds considerably to improved overall customer experiences, resulting in enhanced happiness and loyalty.
If you are interested in more WooCommerce features, WP SMS also offers an add-on specially for WooCommerce integration and it is called WP SMS WooCommerce Pro. Check it out!