Bringing together WP SMS with WooCommerce can be quite advantageous to your online store. By providing real-time SMS notifications for various crucial events, you may increase consumer engagement and communication.
WP SMS keeps your consumers informed and engaged throughout their shopping process, from order confirmations and shipment updates to delivery messages and abandoned cart reminders. This personalized touch not only boosts customer happiness but also lowers basket abandonment rates. It may also be a strong marketing tool, allowing you to immediately reach out to your target audience with promotions, special offers, and product updates.
What you are about to read
What options WP SMS offer in its integration with WooCommerce?
The below details outline the integration capabilities of WP SMS Pro with WooCommerce, along with the variables utilized in the customization of messages for each feature. In each of the features below, you'll have the option to send a customized text message with variables.
To access the WooCommerce features in WP SMS, simply navigate to SMS → Settings → WooCommerce
Notify for new product
This is a game changer for staying in touch with your key customers. With this tool, you may send tailored SMS notifications to a specified group of subscribers whenever you add a new product to your range. This allows you to target the correct audience, whether it's your most loyal customers, those interested in a specific industry, or even a carefully chosen group. Consider the impact of instantly sharing exciting new features with your most engaged patrons, keeping them in the loop at all times. It's not just about informing customers; it's also about creating a sense of exclusivity, rewarding loyalty, and piquing their interest.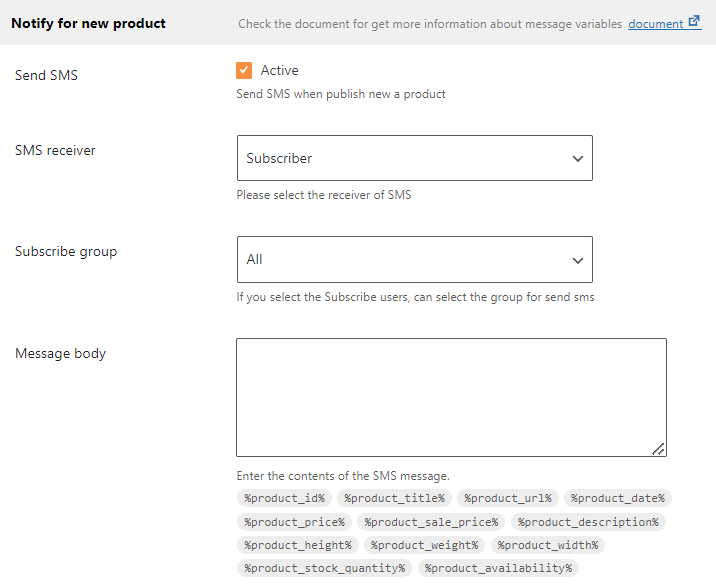 Notify for new order
This tool is your direct access to informing subscribers whenever a new order is placed. You can use customized SMS notifications to promote exclusive bargains, limited-time offers, or popular item restocks. This customized communication increases not just client happiness but also stimulates repeat business, forming a strong link between your brand and your loyal customers. With this powerful option, you'll never miss an opportunity to engage your audience.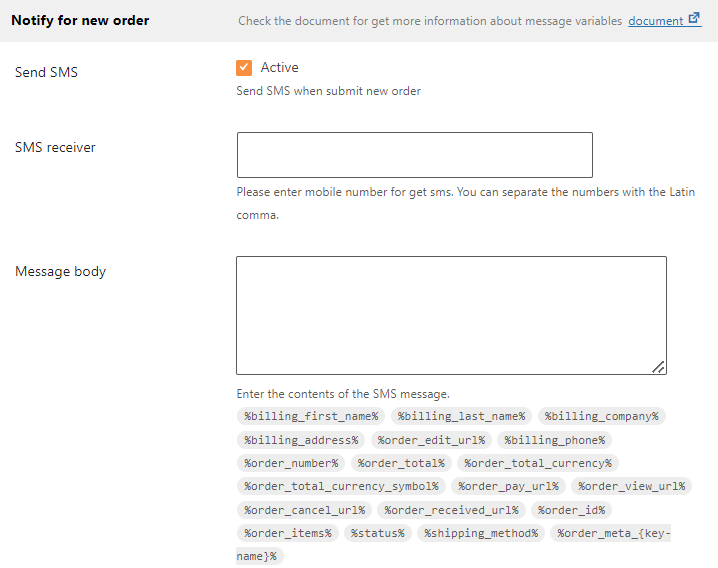 Notify to customer order
To keep your clients updated, you may send a customised SMS with each new order that includes all of the important data of their transaction. Enabling this option ensures that your clients receive a text message soon after completing their order, giving them with a streamlined experience and instantaneous peace of mind. No more doubt or guessing – our Order Confirmation SMS keeps your clients informed, emphasizing your dedication to excellent service and increasing their overall satisfaction.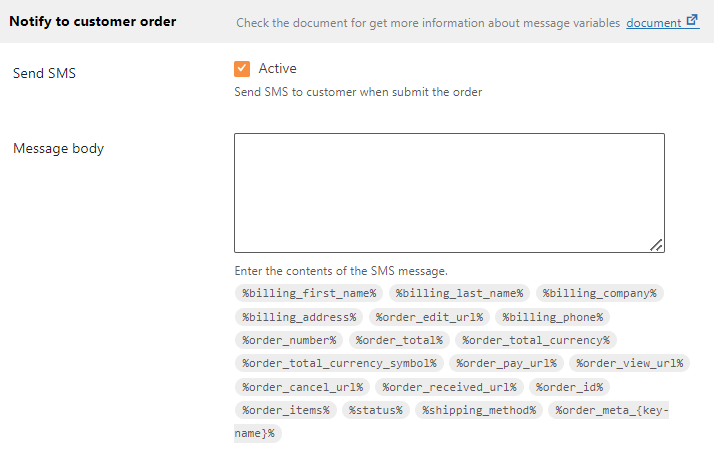 Notify of stock
With customized SMS notifications, you can experience proactive management of your stock. Receive immediate updates with product details when stock runs low. Admins can also be notified, ensuring that you never miss a beat when it comes to managing appropriate inventory levels. Elevate your operations with real-time stock updates, which streamline reordering and minimize disruptions.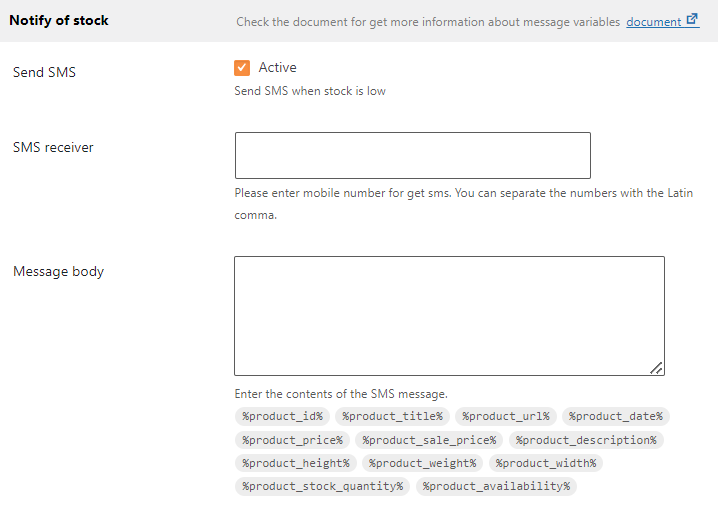 Confirmation Checkbox
In the checkout page, we offer a convenient consent feature where customers can opt-in to receive SMS notifications regarding their placed orders. This ensures that they stay informed and updated about the status of their purchases, providing a seamless and engaging shopping experience.

Notify of Order status
Real-time order status updates will transform the customer experience. By enabling this feature you can send customized text alerts whenever the status of the orders changes. It's all about transparency, keeping people informed, developing trust, and developing loyalty. With our seamless order status function, you can ensure a satisfied and engaged customer base.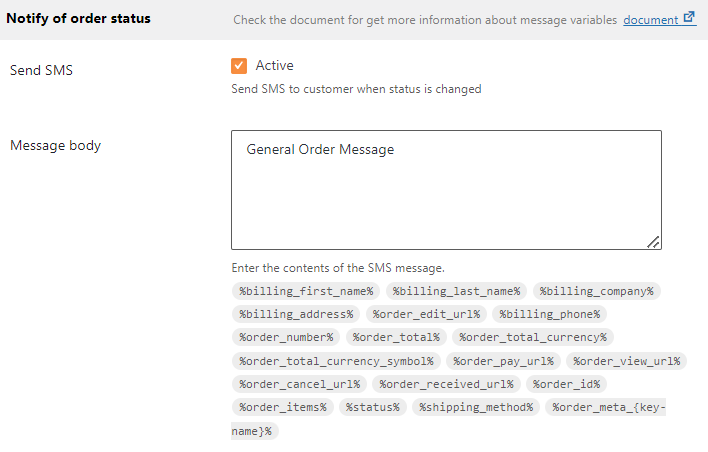 Notify of specific order status
Using our customized order status notifications, you can stay in touch with your customers. Simply select the important order statuses and notification triggers, and you're done! When these goals are reached, your clients will receive friendly, timely SMS messages. It's an excellent method to keep people informed, give a wonderful experience, and establish confidence.
You can have multiple settings set for this features so in case of change in any status your customers will know.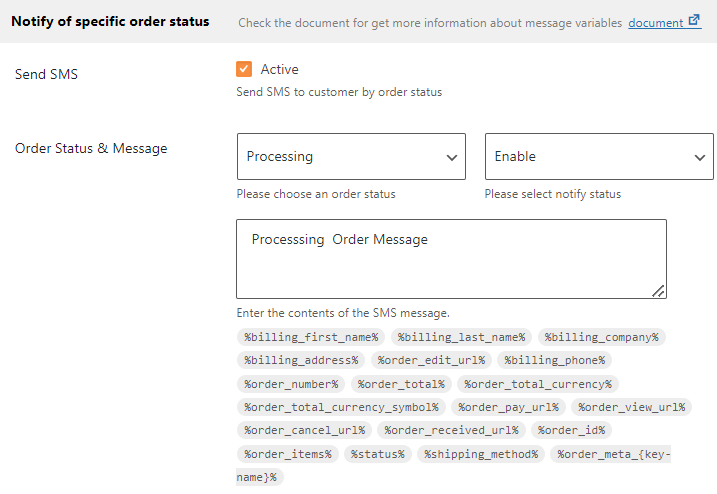 WooCommerce SMS notification benefits
WooCommerce SMS notifications are an excellent way to improve client relations and the purchasing experience. This function instills trust and minimizes ambiguity by communicating order confirmations, shipping progress, and delivery updates by SMS, resulting in higher customer satisfaction.
Because of the ease of real-time alerts, customer support enquiries are reduced, freeing up resources and streamlining operations. Aside from operational advantages, these notifications serve as a powerful marketing tool, allowing you to share special deals and new product releases directly with an engaged audience, resulting in greater sales and long-term consumer loyalty.
WooCommerce SMS notifications, in essence, are a versatile tool for increasing customer interaction, operational efficiency, and business growth.