A crucial factor in the success of e-commerce companies is real-time shipping tracking. It has become essential to offer timely and reliable tracking information since customers are demanding quicker updates on their shipments. WooCommerce, one of the top e-commerce platforms, is extremely important for online merchants. The ability of SMS for real-time WooCommerce tracking will be examined in depth in this post as we examine how this combination can revolutionize how businesses keep their clients informed and involved throughout the order fulfillment process.
What you are about to read
The Advantages of Real-Time Tracking
Enhanced customer satisfaction: Customers are notified about their orders in real-time, providing transparency and lowering worry.
Reduced support inquiries: Customers are less likely to call customer service for order updates when they have access to real-time tracking information, freeing up resources for other duties.
Increased trust and confidence: Live monitoring develops confidence in your business by demonstrating to customers that you respect their experience and transparency in the purchase fulfillment process.
Improved customer retention: Users are more likely to return for subsequent purchases if they have a favorable experience with real-time tracking, resulting in greater customer retention rates.
Encourages repeat purchases: The dependability and transparency of immediate tracking might encourage clients to make repeat purchases since they know they can rely on your company to deliver on time.
Competitive advantage: Sets your firm out from rivals and promotes you as a customer-centric corporation.
Operational efficiency: Updated status helps you to spot any problems or delays in the shipping process, allowing you to take proactive actions and assure on-time delivery.
Positive brand perception: By emphasizing immediate feedback, you position your brand as one that prioritizes client pleasure, so increasing your brand reputation.
Word-of-mouth referrals: Customers that have benefited from real-time tracking are more inclined to promote your company to others, resulting in new customer acquisition.
Data-driven insights: Real-time tracking data gives significant insights into shipment trends, delivery timeframes, and consumer preferences, allowing you to make educated business decisions and manage your operations.
Why WooCommerce?
WooCommerce is one of the most popular e-commerce platforms noted for its flexibility and user-friendliness. It interacts effortlessly with WordPress, making it available to enterprises of all sizes. WooCommerce has gained appeal among entrepreneurs and established businesses alike due to its powerful set of features, which includes configurable product catalogs, secure payment methods, and extensive plugin support.
SMS Notifications in WooCommerce
WP SMS is a popular plugin for allowing SMS notifications in WooCommerce. This plugin integrates seamlessly with WooCommerce and includes specific features aimed to improve the consumer experience.
You can use SMS alerts to keep your clients informed and engaged throughout the purchase fulfillment process by integrating WP SMS with WooCommerce. WP SMS's capabilities, such as order progress notifications, and seamless WooCommerce integration, allow you to give your consumers a seamless and personalized experience.
Sending Shipping Status with SMS to Customers
Sending delivery status information to customers by SMS is a great e-commerce tactic. It enables you to provide real-time information about the location of their orders to their mobile devices. This proactive communication keeps customers informed, develops trust, and improves their whole buying experience.
WP SMS is a strong tool that enables the effective and timely delivery of shipping information to clients. WP SMS, with its seamless integration with WooCommerce, streamlines the process of informing clients about the status of their orders' delivery. Businesses may send real-time updates on tracking numbers, expected delivery dates, and other pertinent information by using customizable SMS themes. This improves the customer experience, cuts down on queries, and increases customer happiness and loyalty. Businesses may use WP SMS to keep their consumers informed and engaged throughout the shipping process.
Best Order Tracking Plugins for WooCommerce
Here we introduce several plugins that will help you send tracking numbers to your WooCommerce clients when the status of their purchase changes using WP SMS Pro:
The WooCommerce Shipment Tracking plugin is a powerful tool that simplifies order tracking and enhances the overall customer experience. With this plugin, merchants can effortlessly manage and provide accurate shipment tracking information to their customers, ensuring transparency and satisfaction throughout the delivery process.
Benefits of the WooCommerce Shipment Tracking plugin include:
Real-time Tracking Updates
Seamless Customer Experience
Branding and Customization
Multiple Tracking Providers
Analytics and Insights
With the help of the robust WooCommerce ShipStation Integration, you can quickly and easily link your WooCommerce store with ShipStation, a top shipping and order fulfillment platform. To increase efficiency and boost customer happiness, this connection automates activities, streamlines your shipping procedures, and helps you manage orders effectively.
Benefits of the WooCommerce ShipStation Integration plugin include:
Simple Order Processing
Support for Multiple Carriers
Batch processing and automated systems
Features for Advanced Shipping
Coordinated Inventory Management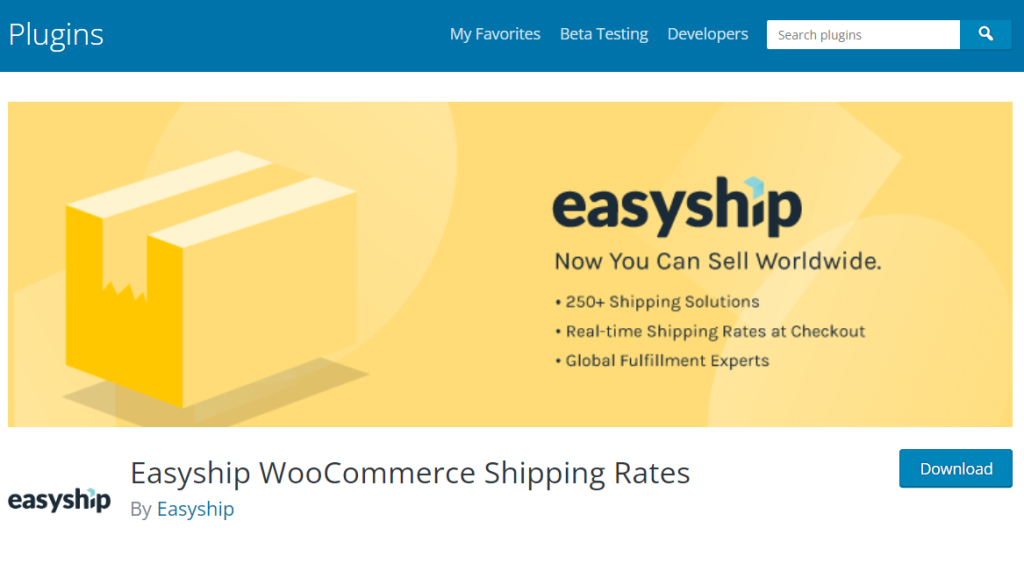 Using the assistance of Easyship WooCommerce Shipping Rates, a strong integration between your WooCommerce store and the worldwide shipping platform Easyship is made possible. This connection offers you an effortless shipping experience as well as a number of advantages to streamline your shipping procedures.
Benefits of the Easyship WooCommerce Shipping Rates plugin include:
Real-time Shipping Rates
Global Coverage
Shipping Automation
Cost Savings
Transparent Tracking