Online shopping cart that customers have filled with products but have not checked out are referred to as Abandoned cart. For online businesses, recovering these abandoned carts is essential since it may result in more sales and more devoted customers. Studies show that roughly 70% of customers abandon their shopping cart, underscoring the necessity for firms to undertake methods, such as sending SMS reminders, to recover lost purchases. Businesses may boost conversion rates and spur revenue development by sending SMS messages to clients who have abandoned cart.
What you are about to read
Why does this happen?
Cart abandonment can occur for a number of reasons, including unanticipated shipping prices, a difficult checkout procedure, a lack of faith in the website or payment gateway, a sluggish website, website faults, comparative shopping, and more. Customers occasionally put items in their shopping cart with the idea to buy them later or just browse the store. Knowing the causes of cart abandonment may help online business owners find the problems and resolve them, lowering cart abandonment rates and raising revenues.
Cart abandonment is greatly influenced by shipment. So, your shipping and handling charges may be a contributing factor if your shop is seeing an above-average amount of cart abandonments. We'll look at a solution in the next section to help you fix the issue and raise the proportion of clients who finish their purchases.
Finding an answer
The WooCommerce Abandoned Cart SMS function of the WP SMS WooCommerce Pro add-on allows online store owners to recoup lost sales by sending customized SMS messages to clients who have abandoned their carts and even setting coupons for them. Store owners may use this tool to remind consumers of their unfinished purchases and push them to finish them.
How WP SMS WooCommerce Pro add-on Works
Customers who have left things in their basket but have not completed the transaction are automatically sent SMS messages using the WooCommerce Abandoned Cart SMS functionality. These messages can be tailored to contain coupon codes to persuade them to finish the transaction.
The fact that SMS messages have a substantially greater open rate and response rate than emails is one of the main advantages of utilizing them over other communication channels, such as email. Customers are therefore more likely to notice the notification and act to finish the transaction. Moreover, SMS messages are frequently seen as being more important than emails, which might contribute to the sensation of urgency. Also, consumers frequently perceive SMS messages as being more important than emails, which may serve to evoke a feeling of urgency and motivate them to act more swiftly.
WooCommerce Pro's functionality for abandoned cart
There are several capabilities for abandoned cart with the WooCommerce Pro add-on. You must first buy and activate the plugin. Then, go to SMS Woo Pro → Settings → Cart, where you'll notice options like:
Threshold setting for sending SMS notifications after a customer abandons their cart. This threshold determines the time it takes for a cart to be recognized as abandoned.
Coupon creation with expiration date capability.
Customized message-sending option, with the ability to set the time after the cart is recognized as abandoned.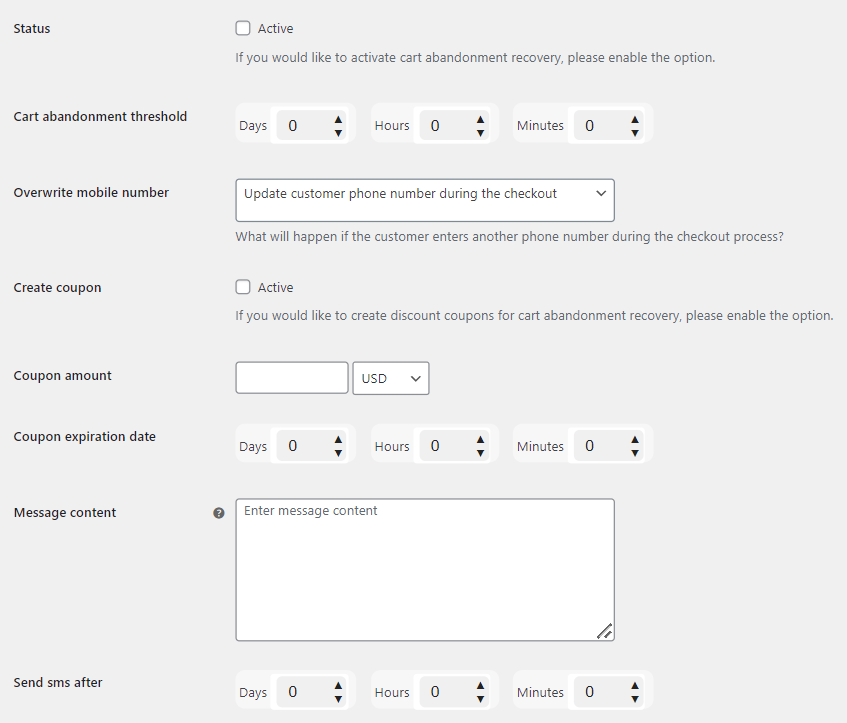 To sum it up, recovering abandoned shopping carts is a critical aspect of online businesses. By utilizing SMS reminders and coupons, such as the ones provided by the WP SMS WooCommerce Pro add-on, online store owners may boost conversion rates, reduce cart abandonment rates, and increase revenues.
By understanding the reasons behind cart abandonment and addressing them, online businesses may build a more loyal customer base and increase their bottom line.