Do you need to check that your WP SMS forms are compliant with the European Union's General Data Protection Regulation? The best way to ensure GDPR compliance for your specific site is always to consult legal counsel. In this guide, we'll discuss general considerations for GDPR compliance in your WordPress forms related to WP SMS plugin.
What you are about to read
What is GDPR?
GDPR is a regulation that aims to protect the privacy of EU (European Union) citizens. Among other things, it provides users with more control over the personal data that they share with websites.
Want to learn more about GDPR and, more specifically, how it affects WordPress websites? Here are some recommended readings:
Is the WP SMS plugin GDPR Compliant?
From version 4.1.0 the answer is YES, but it needs to activate it on the setting page.
You can do this by going to SMS → Settings.
On the General → Privacy section, you can check the box labeled GDPR Enhancements.

Privacy Setting
According to Article 17 of GDPR, the user (data subject) shall have the right to obtain his/her data or have them erased and forgotten.
In the WP SMS plugin, you can export the user's data or erase his/her data in case she/he asks.
For more information, read Article 17 GDPR. Note: On this page, you can export or delete only the user data related to the WP SMS plugin.
For doing the same for your whole WordPress, see the Privacy page and enable Export User's Data related to WP SMS or Erase User's Data related to WP SMS options.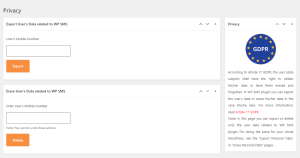 The final result can look like this: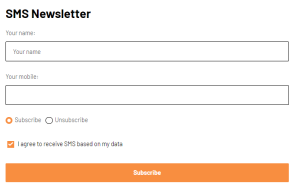 Frequently Asked Questions
Where are mobile numbers stored?
Users' mobile numbers are completely stored and handled on your own website where the WP SMS plugin is installed. WP SMS provides 100% privacy for your users' mobile numbers, and so we never collect your user data.
Can I access GDPR enhancements in both WP-SMS and WP SMS Pro?
Absolutely, you have access to GDPR enhancements, no matter which version of WP SMS is used.
The bottom line
Each website is unique in both its goals and functionality. In that way, the path to achieving GDPR compliance will vary depending on the needs of your site.
The most important thing you can do as a developer is to get to know what sort of data your website is collecting and then create a plan of action for keeping it safe. Then, ensure that processes are in place to communicate your policies and manage user data requests.
Legal Disclaimer / Disclosure
We are not lawyers. Nothing on this website should be considered legal advice. Due to the dynamic nature of websites, no single plugin or platform can offer 100% legal compliance. When in doubt, it's best to consult a specialist Internet law attorney to determine if you are in compliance with all applicable laws for your jurisdictions and your use cases.